THE SELECTION ANALYSIS OF LOCATION FOR THE DEVELOPMENT OF THE HYDROGRAPHIC UNIT IN SUPPORTING THE HYDRO-OCEANOGRAPHY CENTRE'S TASKS
EKo Nuryasin Firmansyah

Yoyok Nurkaya

Eska Yosep Wiratama
Abstract
The Hydro-Oceanography centre has the task of carrying out military and national Hydro-Oceanographic mapping survey operations which include surveys, research, marine mapping, nautical publications, application of the marine environment, and shipping navigation safety as well as preparing data and information in territorial waters and national jurisdictions in order to support the interests of the TNI and public for national defense and national development. This research was carried out because the current condition of Pushidrosal has one Survey Unit (Satsurvei) which is centralized in Jakarta. The Satsurvei is tasked with carrying out the development of the Hydrographic Auxiliary KRI (BHO) and the Coastal Survey Unit to carry out marine mapping surveys, faced with a spectrum of challenges and task demands, especially in accelerating the updating of Hydros data and information accurately and sustainably throughout Indonesian waters as well as to support national development, it is necessary to innovate organizational governance in the form of developing the degree of strength of a regional work unit, namely the Hydro-Oceanographic Unit (Sathidros). Determination of the development of the Sathidros location becomes a necessity as an extension of the Pushidrosal in order to be able to reach the implementation of the task of fostering hydros functions and carrying out mapping surveys throughout Indonesia more effectively and efficiently. In this study, the development site of Sathidos will be selected using a methodological approach, namely Fuzzy Multi-CriteriaDecision Making (FMCDM). For the fuzzy criterion weighting problem (opacity/bias) in, this study a more intuitive technique in itsapplication is used, which is AHP Fuzzy (Analysis Hierarchical Process).
Keywords: Sathidrosal, FMCDM, AHP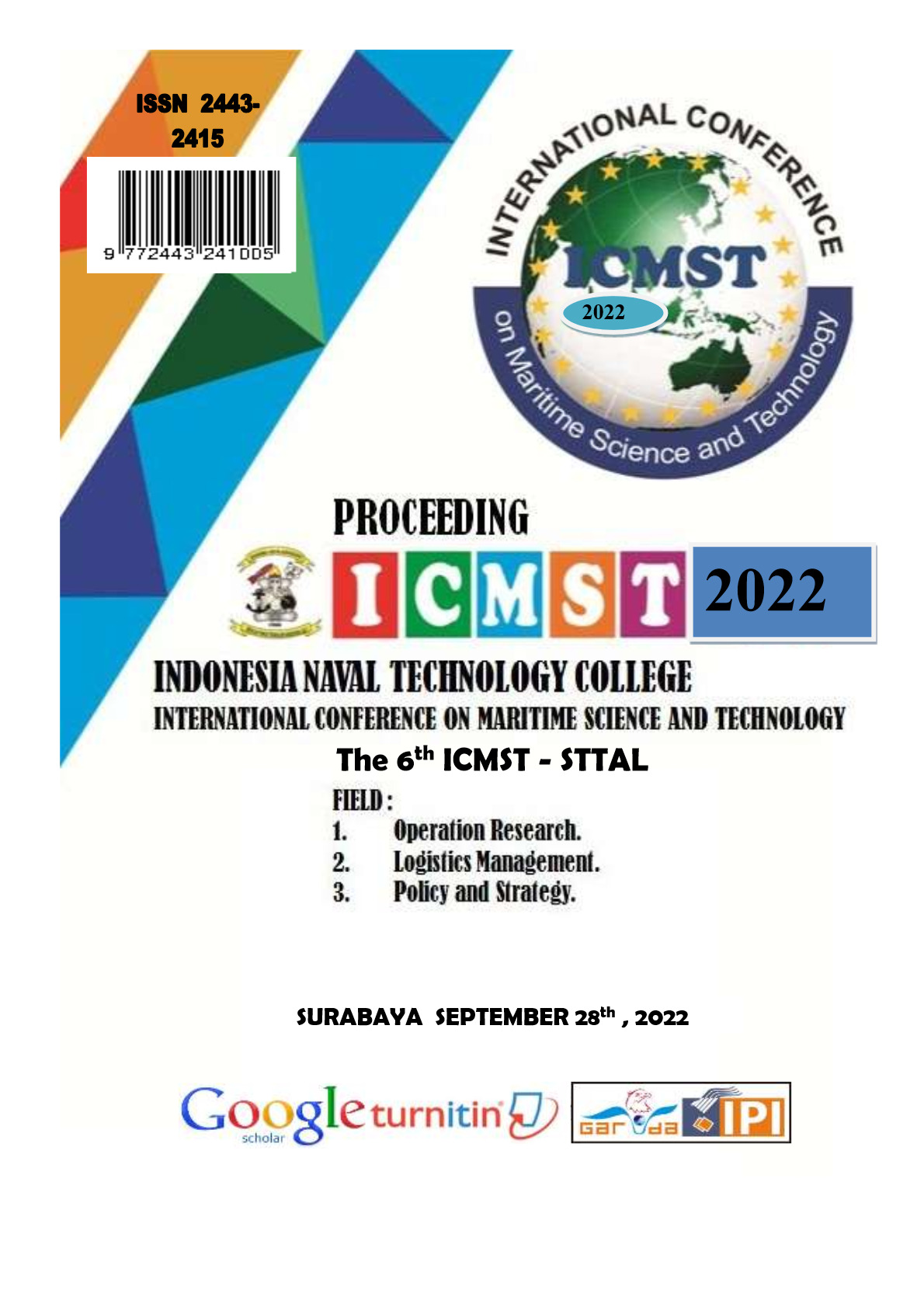 How to Cite
FIRMANSYAH, EKo Nuryasin; NURKAYA, Yoyok; WIRATAMA, Eska Yosep. THE SELECTION ANALYSIS OF LOCATION FOR THE DEVELOPMENT OF THE HYDROGRAPHIC UNIT IN SUPPORTING THE HYDRO-OCEANOGRAPHY CENTRE'S TASKS.
STTAL POSTGRADUATE - INTERNATIONAL CONFERENCE
, [S.l.], v. 6, n. 1, oct. 2022. ISSN 2443-2415. Available at: <
https://seminarpasca-sttal.ac.id/index.php/seminarpasca-sttal/article/view/103
>. Date accessed: 27 sep. 2023.